More than a third of humanity, 2.4 billion people, burn biomass (wood, crop residues, charcoal and dung) for cooking and heating. When coal is included a total of 3 billion people - half the world's population - cook with solid fuel.
The smoke from burning these fuels turns kitchens in the world's poorest countries into death traps. Indoor air pollution from the burning of solid fuels kills more than 4 million people, predominately women and children, each year [WHO, 2012], . This is more than three people per minute. It is a death toll almost as great as that caused by unsafe water and sanitation, and greater than that caused by malaria. Smoke in the home is one of the world's leading child killers, claiming nearly one million children's lives each year. Women and children hit hardest
Ensis Development Ltd in Zambia and Miombo AS in Norway have partnered on development of integrated and profitable value chains for stove fuel and improved cookstoves. The companies have jointly registered Home Energy in Zambia as the legal entity for its activities.
Home Energy's mission is to establish new cross cutting value chains for efficient and clean burning cookstoves and new value chains for cookstove fuel.
The company offers Peko Pe stove flatpacks to tinsmiths; the Peko Pe stove with a thermoelectric generator, the Sawduster stove running on sawdust and stove fuel as pellets to households.
A key issue related to energy is its cross cutting nature. Critical social and economic parameters on e.g. health and transport are intrinsically linked to modes of energy production and its distribution through supply chains. Integrated sector development is necessary to promote the cross-sectorial linkages between the energy sector and other sectors such as household energy, agriculture, sawmills and charcoal trade. Essential to this integrative approach is minimizing the negative environmental and health effects of energy production in e.g. household cooking, transportation and other use.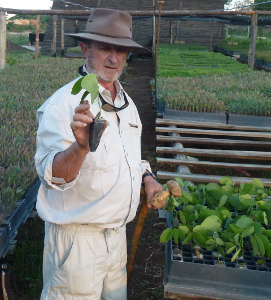 Nick O'Connor, at his nursury
If we use biomass or wood for cookstove fuel, we should also plant trees to compensate for the biomass taken out from the woods.
"We need to train our farmers to shift from conventional unsustainable agriculture to agro forestry or permaculture. This way they will understand that trees are NPK."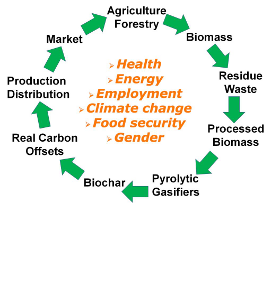 A circular sustainability concept
We believe that sustainability is a circular concept, where the cookstove is one small part of a long chain.
A successful stove introduction is dependent on all parts in the chain. This is particularly true for the stove fuel, that is collection, processing of stove fuel and use of the stove fuel in cookstove.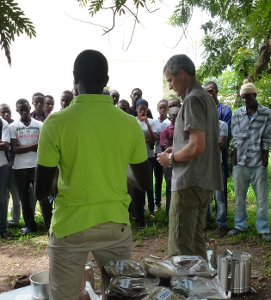 Terje Hoel at cookstove demonstration
We believe in clean burning and energy efficient cookstoves as a tool to reduce health effects associated with smoke in the kitchen and to reduce the rate of deforestation